The cleaning technology using the solubility of the supercritical fluid attracts attention in the field broad as its environmental friendliness. Since the surface tension is low, a supercritical fluid infiltrate into details and it can clean it, without changing a detailed pattern.
Supercritical CO2 cleaning system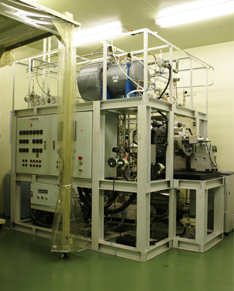 Carbon dioxide gas cleaning system
.
Specification
| | |
| --- | --- |
| Designed pressure | 10MPa |
| Designed temperature | 40℃ |
| Vessel size | 12L |
Consisting of
Cleaning vessel (with heater and auto open / close hutch)
Liquid supply vessel (With condensater)
Waste liquid collection vessel (Heater included)
Chiller (5.5kw)
Filter (Stand-by changeover)
Automatic control panel (Touch panel)
Feature
Drying system is not required
Recycle of cleaning media is easy
Waste liquid treat is not needed
Principle
Cleaning is performed at subcritical area which is closed to supercritical
Cleaning waste liquid is separated into carbon dioxide and residue
Carbon dioxide is liquefied for reuse.
Residue is only pure cleaning residue
Things to be cleaned
Dry cleaning: Cloth cleaning, removal of a remains toxic substance
Precision mechanical parts: Oil removal, solvent removal
Semiconductor field: Wafer, resist film exfoliation, IT parts cleaning
Advantage
Cleaning of parts and material, which are weak with water or heat, is possible.
Drying process in not required
Cleaning of combined material is possible
Options
CO2 gas recirculation system
TV monitor

Consult us for special specifications
Wafer cleaning system
Ihis is a equipment which performs the surface treatment of a wafer in supercritical CO2.
Specification
| | |
| --- | --- |
| Designed pressure | 25MPa |
| Designed temperature | 100℃ |
| Cleaning vessel size | 3.3L |
Clean specification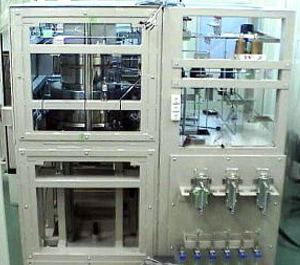 Wafer cleaning system